Leather jackets signify style in the fashion industry. Whatever the season, you can trend in the different leather jacket styles in the market. A biker leather jacket is among the timeless fashion emblems today, thanks to its versatility.
Although these jackets come in different sizes and designs to fit varying body shapes, getting a perfect design for your body can be challenging. You should blend personal preference, fit and body shape to get a perfect design. 
To simplify your search for a leather biker jacket, this post outlines seven tips to help you choose a perfect fit. Read on and learn more.
Choose the Right Size and Fit
Like other clothes and fashion accessories, choosing the right size and fit when buying leather jackets is crucial. You need to step out stylishly in a jacket that complements your body shape. 
A tight-fitting leather biker jacket can make you feel uncomfortable, especially when riding. Therefore, if you ride often, choose an appropriate leather motorcycle jacket. It shouldn't be too tight or baggy.
Very tight motorcycle jackets can restrict movement, while loosely fitting ones hanging over the motorbike can cause accidents. The right leather jacket should fit you well and offer you comfort while moving about.
Consider the Length
Leather jackets come in different lengths. Most leather biker jackets fall to the mid-waist, although some may extend. Motorcycle jackets' ideal length should reach the mid-waist, but longer leather jackets can rock equally well if you are not a riding enthusiast.
If you frequently attend casual occasions, a jacket that falls below the waist comes in handy. You can wear it with a mini skirt or a pair of leggings.
Other length features to consider when choosing a leather biker jacket or motorcycle jacket include sleeve and collar lengths. The ideal sleeve length should reach your wrist for protection and earth, especially when outdoors.
Check Leather Quality
You are wrong if you thought all jackets are made of the same quality leather. In addition to the four basic types of leather, including full grain, top grain, genuine and bonded, you will find a ton of grades in the market. 
High-quality natural leather is soft, smooth and flexible. Therefore, look out for these features in a motorcycle jacket before paying for it. 
Like textile jackets, leather motorcycle jackets have several counterfeits in the market. You may fail to differentiate between genuine leather motorcycle jackets and imitations at a glance because they look identical. However, poor-quality leather is rough, tough and peels off easily.
Does the Interior Suit Your Preference?
Leather motorcycle jackets have different materials in the interior. For example, some contain a silver lining, while others are quilted. 
Your ideal leather motorcycle jacket choice depends on preference, personal style and activity. If you love spending time outdoors, you may need riding gear. In addition, you can grab a quilted leather motorcycle jacket to keep you warm, especially during winter. 
During summer, breathable motorcycle jackets with silk lining in the interior are ideal.
Check Construction Quality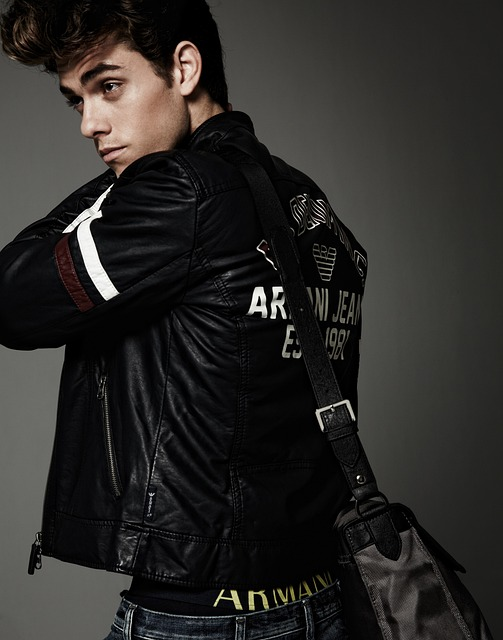 Another feature to look for in a biker leather jacket is construction quality. Like other outfits, your leather motorcycle jacket may look classy but not durable. 
Good construction quality enhances durability and visual appeal. Therefore, ensure the zippers, buttons and stitching along the seams are done well.
Examine the Style and Design
Biker jackets come in different styles and designs, including women's and men's leather jackets. Some designs are classic and conservative, while others are trendy. You should consider your body build as you shop for a perfect jacket.
Here are a few suggestions.
Close Body Fit for Slim Figures
If your figure is slim, opt for body-fitting leather bikers. A leather jacket that fits closely to your body accentuates your physique, adding to its beauty.
You should avoid extra large sizes because they make you look more slim.
Wide Shoulders for Athletic Bodies
Men have athletic bodies. If you want men's leather jackets, choose designs with wide shoulders.
Apart from being trendy, you should choose a biker jacket that feels comfortable when you wear it. Very loose jackets can make you look less athletic, therefore, choose the right fit.
Longer Cuts for a Stocky Build
Do you have a stocky build? If yes, longer jackets that fall below the waist are ideal. They are comfortable and also conceal your stocky body.
Choose a Perfect Biker Jacket for a Trendy Look
You can elevate your style on the open road by selecting the ideal biker jacket that perfectly blends fashion and function. You get worry-free rides by embracing the allure of leather jackets while prioritizing essential features.
Explore the range of designs in the market, from classic to contemporary, all crafted to suit your needs. Reinforced construction, impact padding, and CE-certified armour are among the features to look for as you shop for biker jackets.
Unleash your inner trendsetter while cruising confidently, knowing you've chosen a jacket that exudes style and prioritizes your protection. Ride in vogue, ride with purpose – choose a perfect biker jacket for a trendy look.
FAQs
What should I look for in a jacket?
There are many features to look for when choosing jackets, but you should prioritize style.
Are biker jackets suitable for all weather conditions?
Yes. They come in different designs to suit varying weather conditions.
Why is CE-certified armour important in a jacket?
CE-certified armour protects vital parts such as shoulders, elbows and back during accidents or when you fall.
Can I find a jacket that suits my style?
Yes. These jackets come in different styles. Whether you love classic or contemporary designs, there is a design for you.